What is Valentine's Day? A day to exchange gifts? A day when schoolgirls and boys make hearts out of red paper? A day when the scent of rose petals fills the air? Some view it as a day to give friends and family flowers, little cards with loving sayings on them, and other gifts. But behind this commercialized front, Valentine's Day has a deeper meaning. It is a day set aside to express love to those you care about through kind words and actions. Sahasra Deepika's work encompasses the theme of Valentine's Day not just on February 14th, but on a daily basis. What better way is there to show love than to provide so many girls with an education, a home and a family of people who care about them?
In the film Suma's Story: It's Her Turn, Suma talks about how her mother dropped her off at Sahasra Deepika and said that she would come back for her–yet she left without ever looking back. When I first saw that film, my thoughts were along the lines of "How could a mother do that to her child?"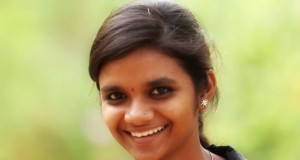 I also started to wonder about how hard life must be for Suma, who must think that her mother did not love her. It took a conversation with my own mother for me to realize that this was really an act of love. My mother was able to understand something that I could not: the extent a mother will go to for her daughter's happiness. This is not to say that Suma has not had difficulties in her life. But Suma's mother dropped her off in an act of love, knowing that Suma would be better cared for, and educated, at a place like Sahasra Deepika. She displayed one of the greatest forms of love: sacrifice.
Mamtha, a 5th standard student at Sahasra Deepika, has also been witness to her mother's sacrifice. When her father went to work one day and never came back, her mother was greatly devastated and searched for him everywhere. Along with worrying about her husband, she worked about her daughter whom she loved, but could no longer properly care for. She found out about Sahasra Deepika, and wanted to enroll Mamtha there. But they didn't have enough money for a bus to Sahasra Deepika Institute. So Mamtha's mother sold her only prized possessions: her silver ankle chains, to afford bus fare. This sacrifice is the definition of love. Today, Mamtha's mother is still in her life and is able to watch her daughter grow into a well-educated woman.
In the long run both Suma and Mamtha will be happier, more successful, and better off because of their mother's love.  Mother Teresa once said, "Spread love wherever you go. Let no one come to you without leaving happier." Mother Teresa's message of spreading love and happiness ties in perfectly with what Valentine's Day should be about. The act of sacrifice, the act of giving up something for someone else cannot be matched by a rose or a card on Valentine's Day. Valentine's Day should promote love through action, just as Sahasra Deepika does each day by providing girls and their families with a second chance for a better life. As a teenage girl living in the USA, after seeing the kind of love promoted by Sahasra Deepika, Valentine's Day has a new meaning. It is not just a time to express love to those you care about, but to also put your love into action.