Sahasra Deepika si a non-profit foundation
Our mission
Sahasra Deepika, which means a thousand lights, is a non-profit foundation that houses and educates underprivileged children in Bangalore, India. Our students are encouraged to develop their intellectual, social, and academic potential so that they can feel self-empowered and contribute to the community at large.

Residential Care
Residential care for impoverished girls

Education
Education through high school, and support for higher studies.

Community Connections
Partnerships with local educators, business, and community leaders to provide resources and mentoring

Outreach
Enrichment and outreach programs for children outside our campus
Our Vision
We aspire to give our students a well-rounded education and stable upbringing while instilling the importance of integrity and service, empowering them to productively participate in their communities and shape the future of our world.
Our Story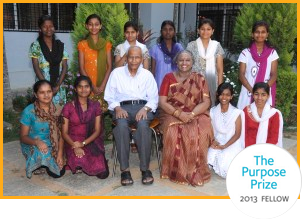 The personal impact of poverty and the difficulties faced by his widowed mother left a lasting impression on Dr. T.V. Ramakrishna. It was the support and encouragement of teachers and caring adults that enabled him to rise above his circumstances and eventually build a life for himself and his family in the United States. After receiving his Ph.D. from the University of Cincinnati, he and his wife Vijaya settled in Charleston, West Virginia.
Dr. Ramakrishna never forgot that there were millions of children like him, with dreams and talents of their own. He and his wife recognized the profound impact that education had on their own lives, and dedicated themselves to educating impoverished children in India. In 1998, they opened Sahasra Deepika Institute on 4 acres of land outside of Bangalore. And thus they began building a future for children in need, one child at a time.
In 2013, the Ramakrishnas were recognized as Purpose Prize Fellows by Encore.org. a nonprofit that promotes encore careers – work that is both personally meaningful and serves the greater good. It represents the nation's only large-scale investment in social entrepreneurs and other creative problem solvers in the second half of life.
Leadership
Sahasra Deepika Foundation for Education (USA) and Sahasra Deepika International for Education (India) work together to implement the mission and vision of Sahasra Deepika.
Sahasra Deepika Foundation for Education (USA) Board of Directors
Sarva M. Rajendra

President

Dana Hutson

Secretary

Swathi Joshi

PVP for Fundraising & Treasurer

Supriya Challa

Director

Dhruva Rajendra

Director

Naren Ramakrishna

Director

Karthik Vasudeva

Director
Sahasra Deepika International for Education (India) Board of Trustees
T.V. Ramakrishna

President & Founder

Salma Khader

Secretary

Vijaya Ramakrishna

Treasurer & Co-Founder

Sanjay Kumar

Chairperson for Fundraising

Vaishali Khandekar

Trustee

Arun Kumar PR

Trustee

Rajalakshmi Natarajan

Trustee

Sarva M. Rajendra

Trustee

M.N. Sridhara

Trustee