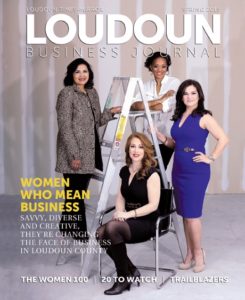 We're only a few months in, and 2015 is already proving to be a great year for Sahasra Deepika. It's wonderful to see so many people recognizing the efforts of Sahasra Deepika, because that means our message of girls education is being heard more and more each day. President Sarva Rajendra shared her thoughts on the past few months, and how such great opportunities mean great things for Sahasra Deepika and the futures of so many young women.
During the past three months, I've been blessed with the opportunity to bring Sahasra Deepika's story to a wider audience. Beginning with an interview on WUSA9, followed by feature articles in Washington Family Magazine and Loudoun Times-Mirror, I was able to share our mission of enlightening and empowering girls through education. Topping this off was being selected for Loudoun Business Journal's 20 Women to Watch in 2015 list, and as one of the four women on the cover of their 100 Women issue.
At the photo shoot and at the launch party, I felt truly humbled to be included in such an amazing community of women. They are leaders and trailblazers in their respective fields, and the spirit of service is woven through their lives. Our discussions quickly moved towards how we could collaborate and find areas of connection to encourage girls to become educated, confident women. Whether the girls in need are from Loudoun County, one of the wealthiest counties in the United States, or from Bangalore, India, they all deserve the chance to realize their potential.
First Lady Michelle Obama said, "When you walk through that open door of opportunity, you don't slam it shut behind you. You hold it open." Through mentoring, service, science, education and in so many other ways, the women I've met are holding open doors so that more people in the community can achieve success. Because at the end of the day, it's all about lighting the way forward for future generations. That's what Sahasra Deepika does everyday. We hope that you'll be inspired to do the same.
A special thank you to Ms. Media for the outstanding work they do to spread the message about our mission.